Expert Remodeling services in The Northern Neck
What's not to love about Virginia's Northern Neck? Mast Builders is located there, in Kilmarnock, VA, and the counties on Chesapeake bay are great places to relax. If you want to enjoy a non-commercialized area full of kind people and a variety of activities to rejuvenate your body, soul, and mind, then Kilmarnock – and the Northern Neck – are where you want to be.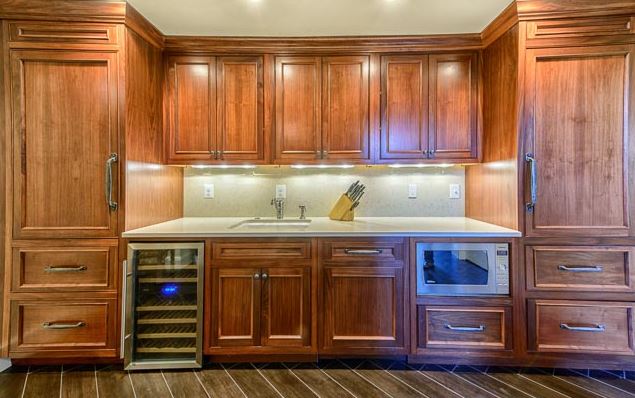 If you live here, you know exactly what we are talking about; it is a place where you can really step back and enjoy the road less traveled, surrounded by history, parks, nature trails, and more. And if you live here, you want your home to reflect that same atmosphere. It should be a place you are happy to come back to every day, matching your unique style and tastes and providing you with comfort and relaxation every day.
Trustworthy Home Renovation Services
Mast Builders has been serving the area since 2003, and we delight in bringing the dreams of our customers to life with high-quality, professional design and construction services. We specialize in kitchen and bathroom renovations, and have designed a wide variety of different spaces for our customers – like the above basement kitchenette with all the amenities, including solid walnut cabinetry and a beautiful layered herringbone floor. We have over 100 years of combined experience, and are here to turn your home into a space that you will love for years to come.
At Mast Builders, our business is built on a foundation of integrity influenced by Biblical principles. We know that choosing to renovate your Northern Neck home can be a big undertaking, which is why our staff and subcontractors will respect you and your property like it is our own. You will never be left wondering what is going on with your remodel, because we will always be available to answer questions and give you updates. We believe that a strong, consistent line of communication is one of the best ways to help relieve your stress and make your home remodeling project easy.
When you want to renovate your kitchen or bathroom, you want to work with a trusted local contractor who knows the area and can meet your needs. We are fully licensed and insured, and are a Class-A contractor for the state of Virginia. We provide you with custom renovations that are built from the ground up to fulfill your needs and your vision, and if you need additional work in your home to make sure your remodel is seamless, we can help you with that too.
If you are considering renovating your home, call Mast Builders today. If we don't answer the phone immediately, we promise to get back to you within 24 hours to set up a consultation and see what we can do for you. Let us help you make your dreams a reality!