Bring Your Whole Home Remodeling Revision to Life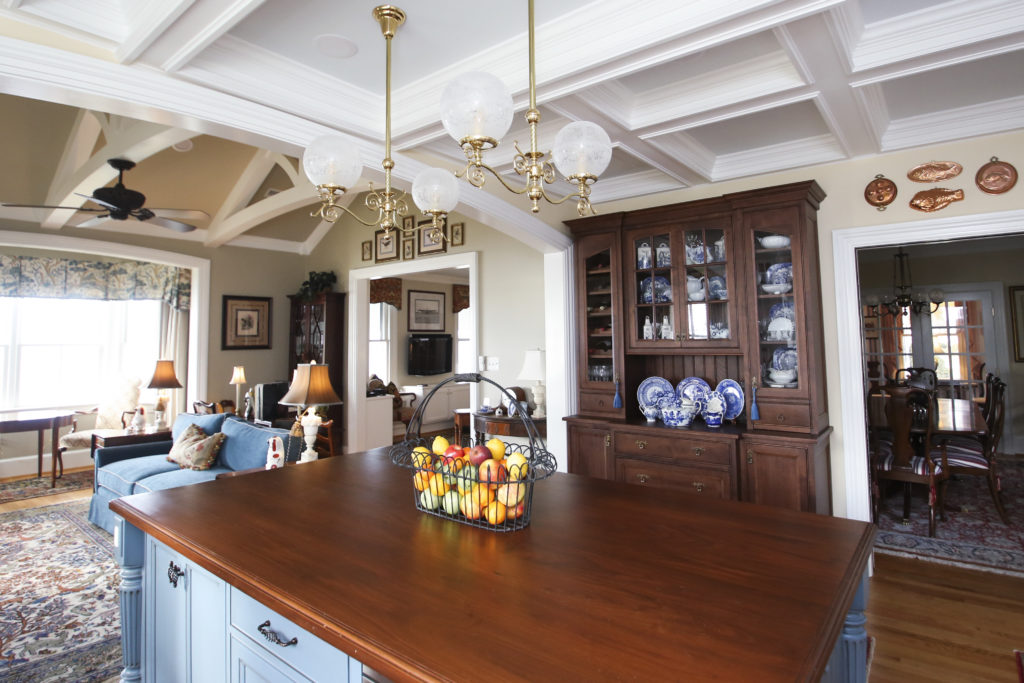 Whether you have an older home that you'd like to modernize or you simply want to upgrade with extensive remodeling, a whole-home remodel is a solid choice. Your home should be a reflection of you; it should show your style and suit your needs. A whole-home remodel is a good way to make sure your home's interior flows well and is designed the way you'd like it to be.
At Mast Builders, our team of skilled professionals is here to help you create a home that fits your family and your lifestyle. We understand that a whole-home remodel is a big project, and we'll do our best to make it as fun and stress-free as possible, so that you can come home to a house you love.
Here we showcase a whole home remodeling project that we completed in Northern Neck.  We first would love to introduce our clients who better tell the story of how this Home Remodeling took a dark cramped place to a beautiful and bright home.
The extended version of this video is at the bottom for those who want more fine details reviewed.
On the top of this page we began by showing the Kitchen Remodeling portion of the Whole Home makeover.  Everyone who sees this will say "Wow what a ceiling" and we couldn't agree more.  Everything was laid out according to the ceiling.  A two piece crown coffered ceiling with an extra piece of trim on the bottom.  The box above the island is the same size of the island.  There are three recessed lights in this main box and then two hanging lights.    Walnut counter top adds a really nice decorative appeal.
But let's take a step back and see how the house looks from the outside and explain to you some history.   The following shows the exterior as well as one of the work diagrams. This stunning Ginger Bread Home is on the Rappahannock River.  The center of the house was built in the late 1880's. In the early 1900's the right wing was built which was a detached kitchen up into the 30's when it was attached.  And now we added on the left 800 Square Feet for the pantry, kitchen and family room.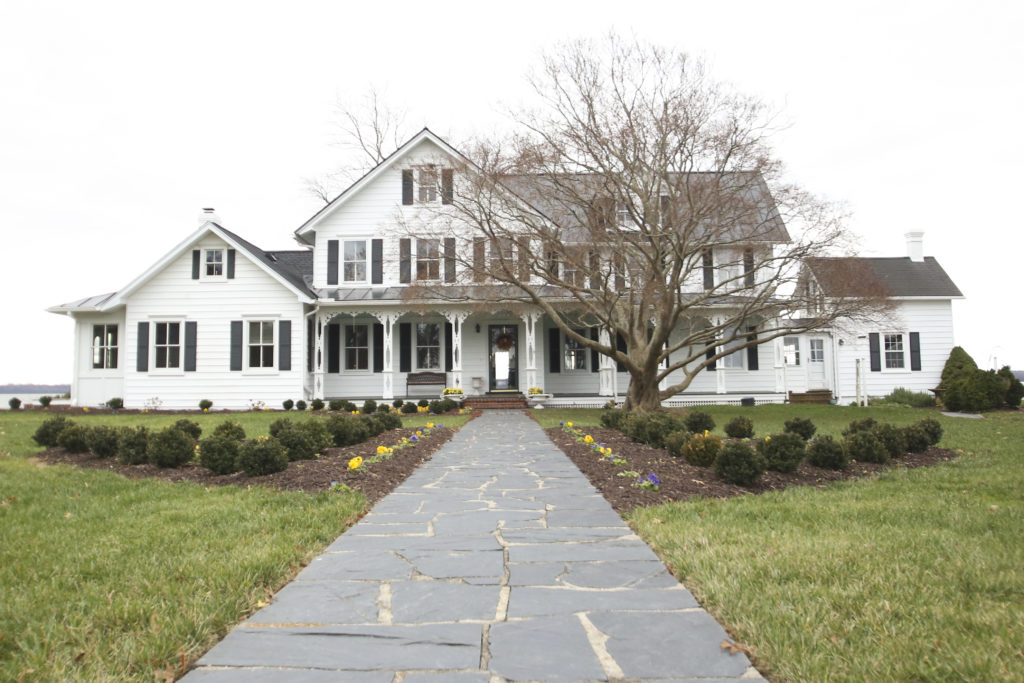 The floor plan shows a part of the design work that went into creating this beautiful project.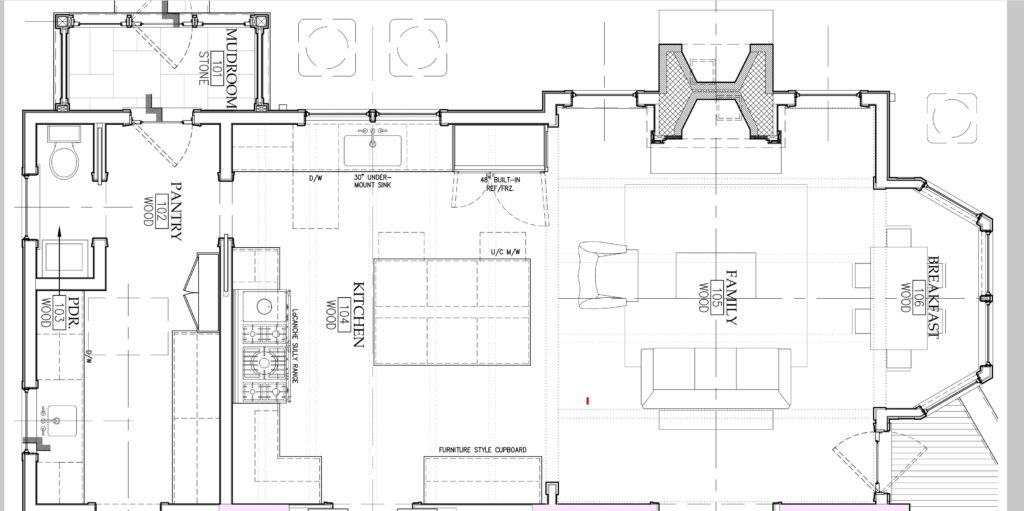 So we begin by entering the family room.  We built a wood burning fireplace to stay in keeping with the house while also installing Gas Logs and running a gas line into it. All new trim is replicated from the old house.  The Den is just off the family room where we show the open display cabinets.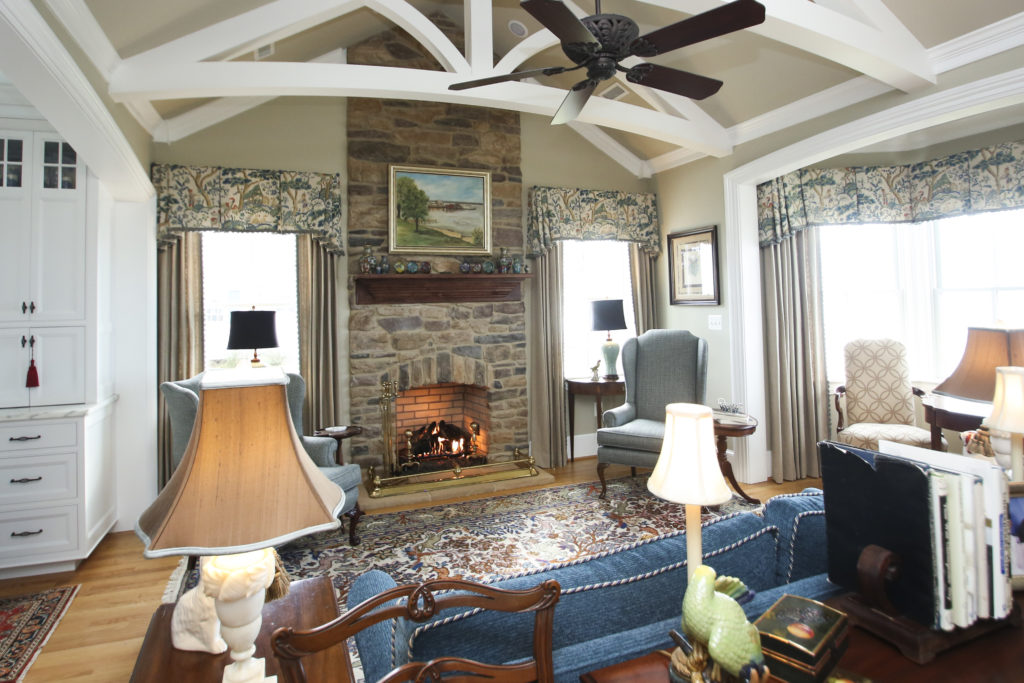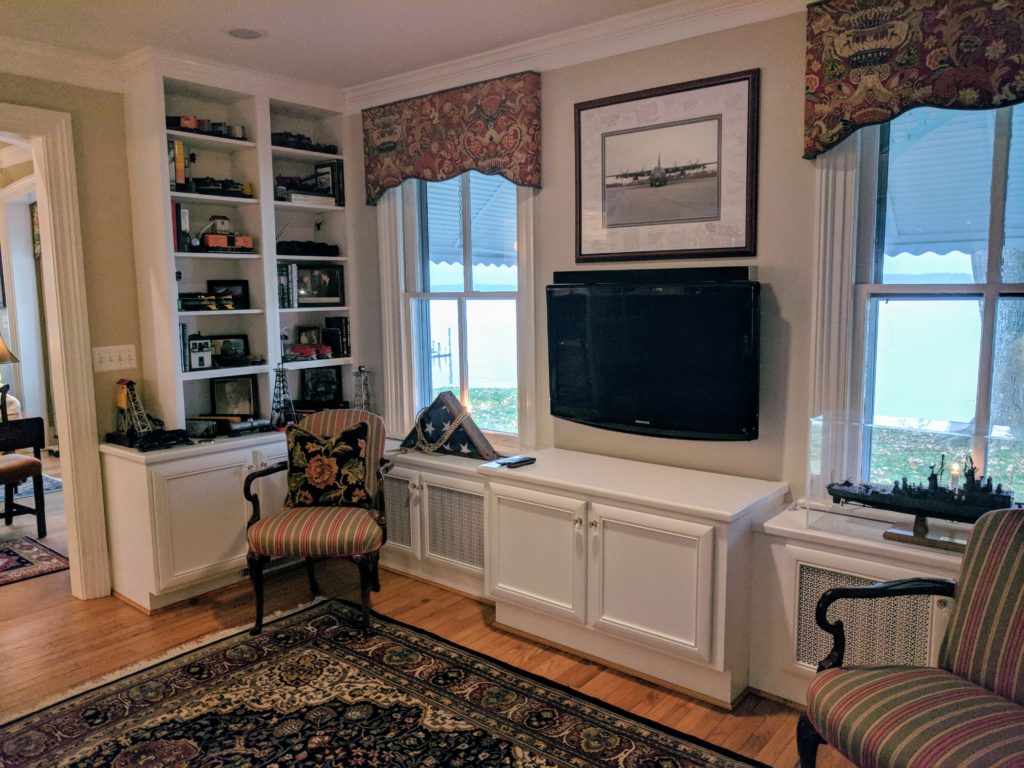 Continuing on is the Dining Room entering into the Kitchen and Den.  We remodeled this room, of course focusing on the crown molding to match.  The breakfast nook with water view is a cozy extension of the family room.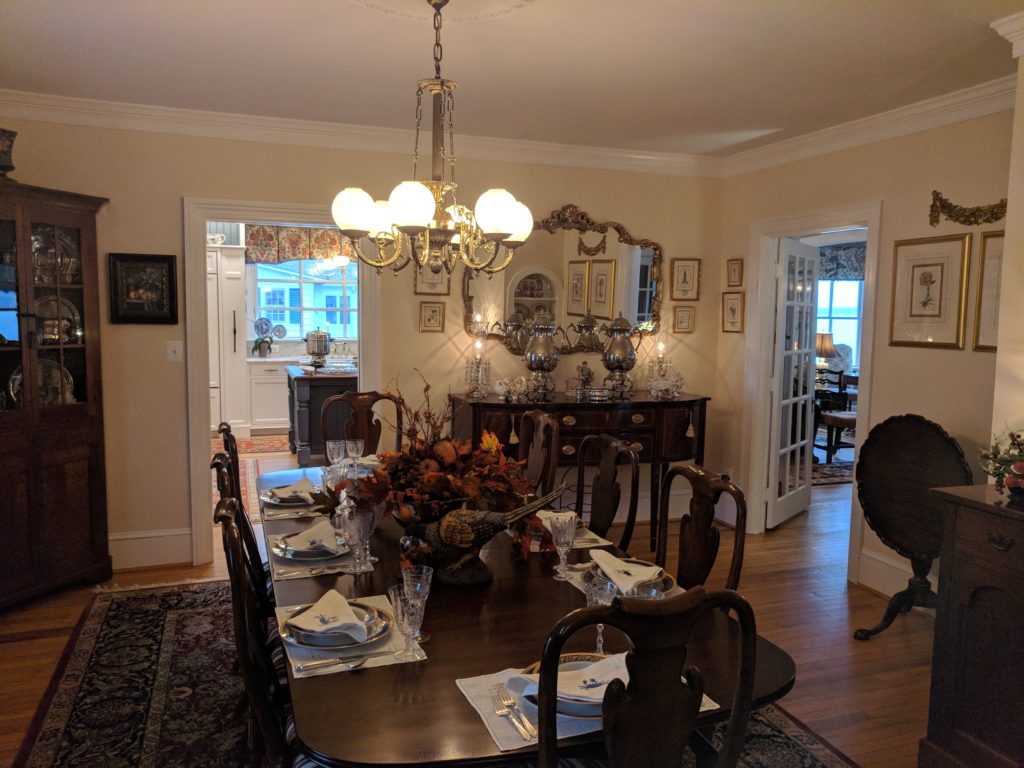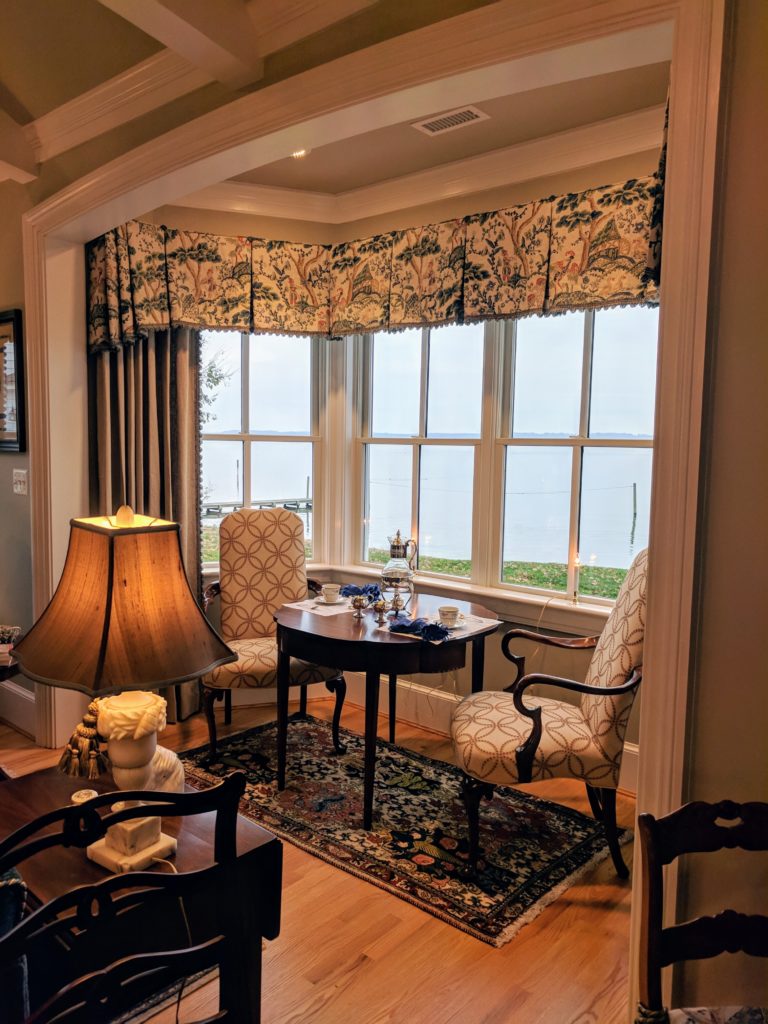 Lets step outside and enter the house on the left side where our New Addition is completed.  This was designed to make it easy to walk into the Pantry from when coming home with the groceries.  Plenty of space, storage and seating is available upon entering the home.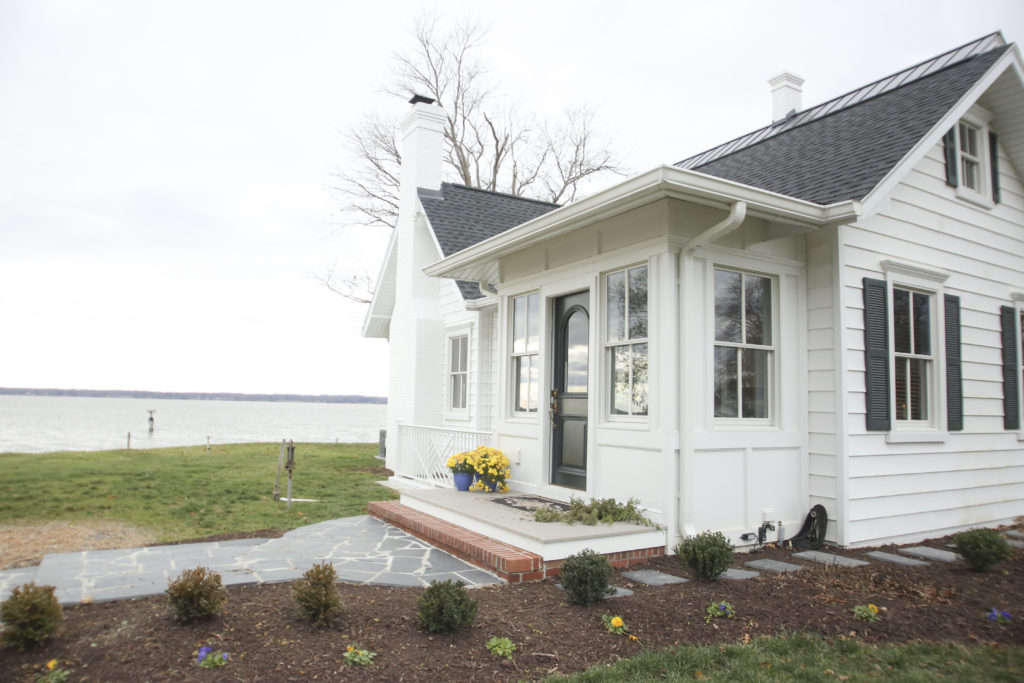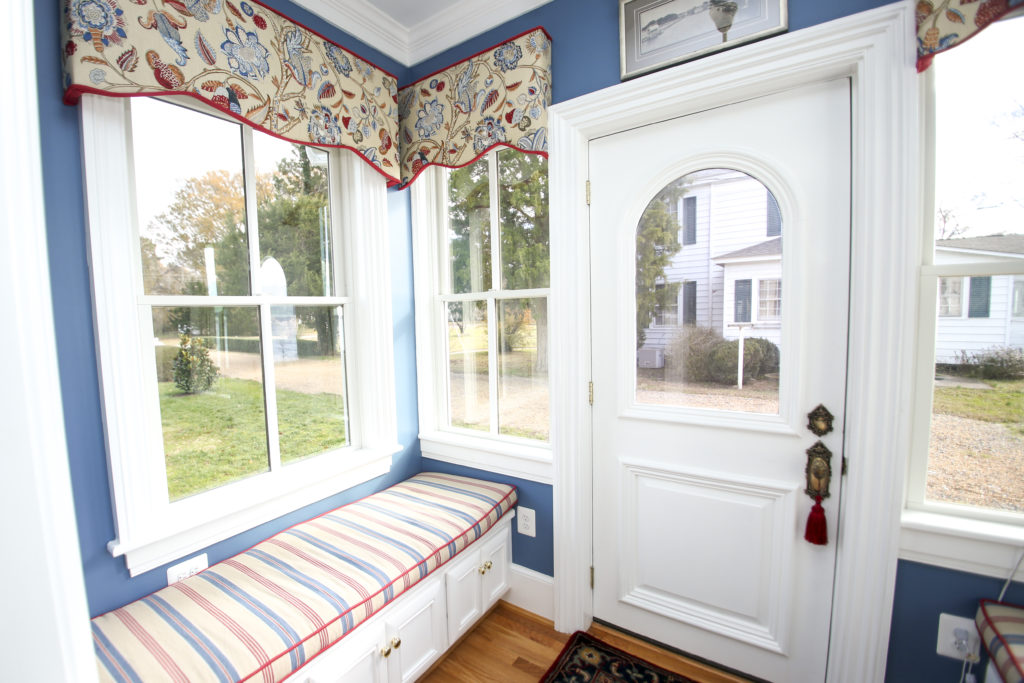 The area was designed for lots of storage beginning with swivel shelves that pull out along with two big pull out drawers.  Everything is soft closed.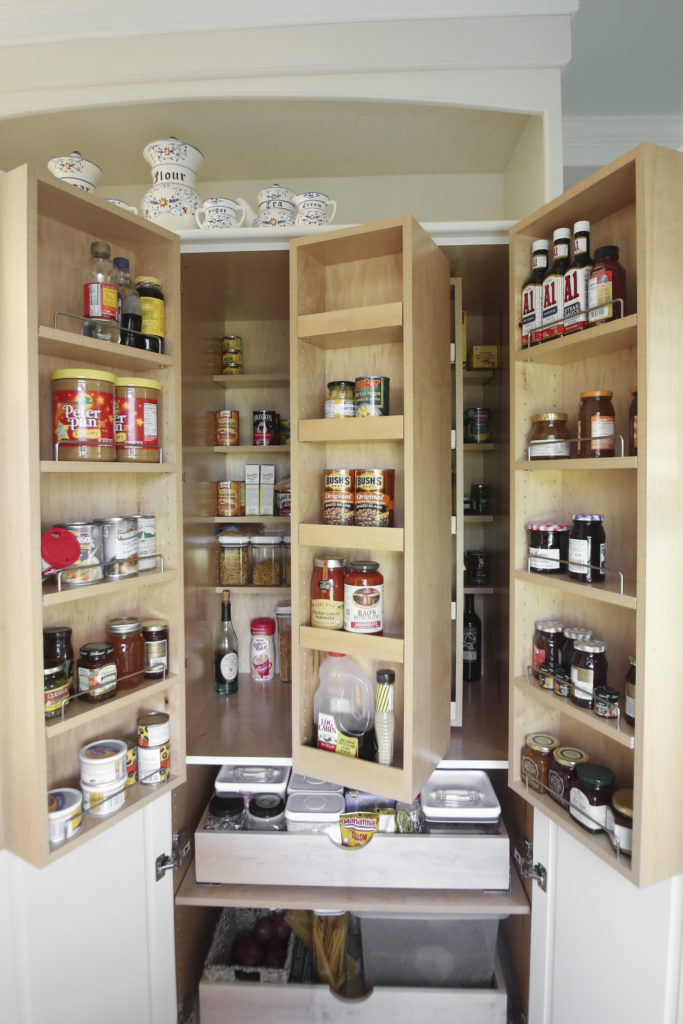 Next up is a simple introduction to our Bathroom Remodeling services.  This powder room is just off to the right when you walk into the foyer where the kitchen is off to the left.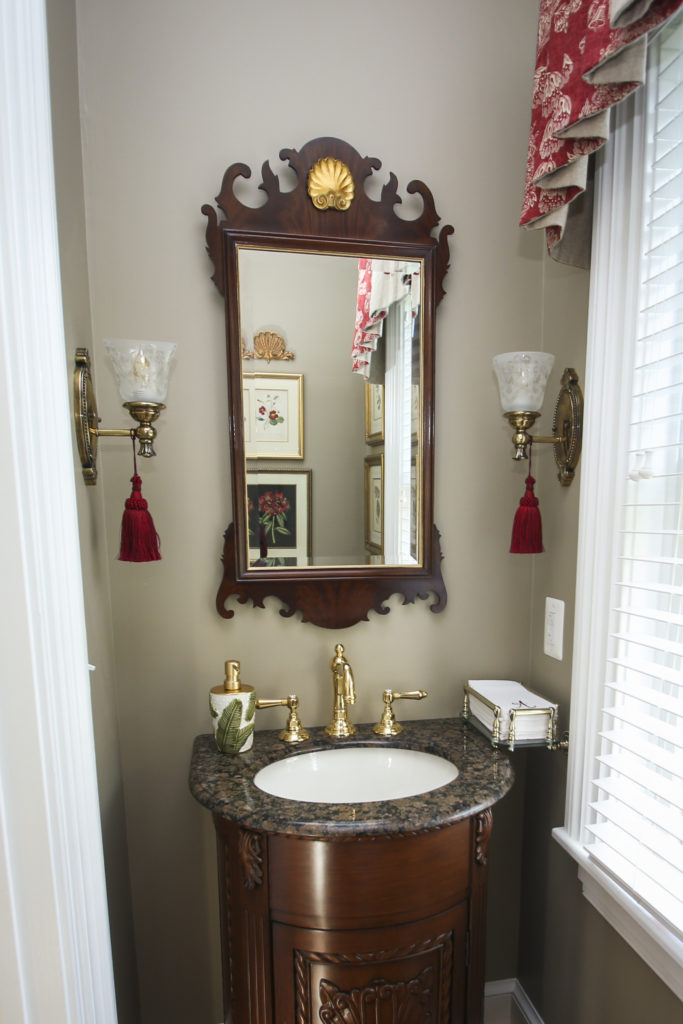 This next image really stands out nicely.  There is a hidden vent that is also wall lit cooking area.  Included are four spice drawers on top and bottom as well as the left and right.    The whole backsplash was lined with marble and then we inset it with the 4×4 Ceramic Tile from the UK. The countertops are marble with waterfall edge.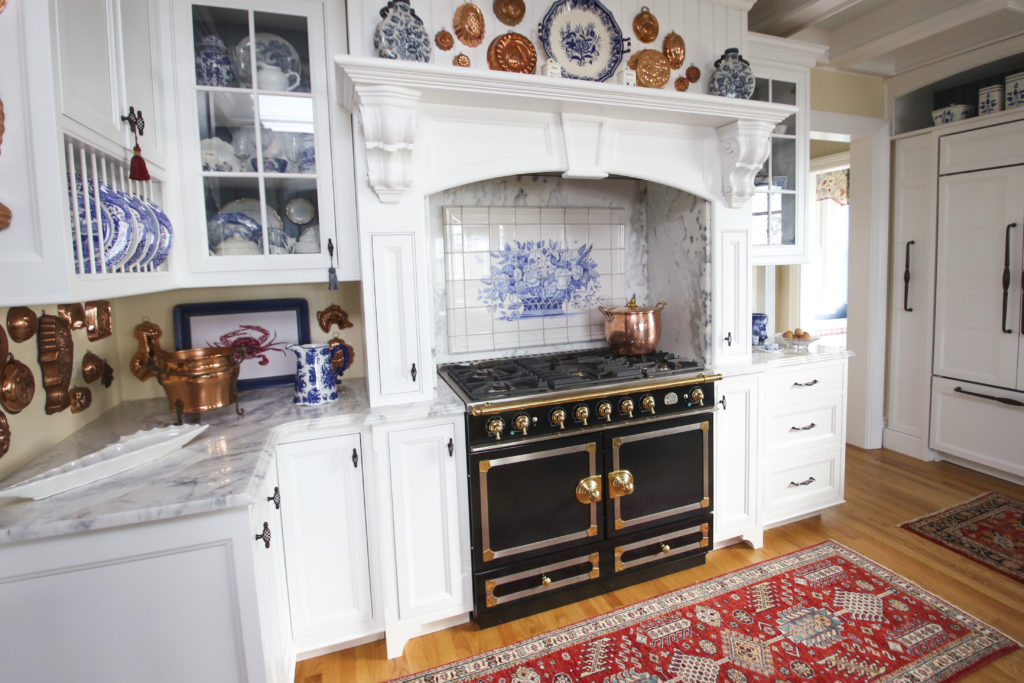 There is a lot to talk about in this next simple image.  It helps amplify the two piece crown molding throughout the entire house, making it look sophisticated.  And there is just three Inches in between the Crown Molding and the Coffered Ceiling. Design work like this is among the many reasons you will consider Mast Builders.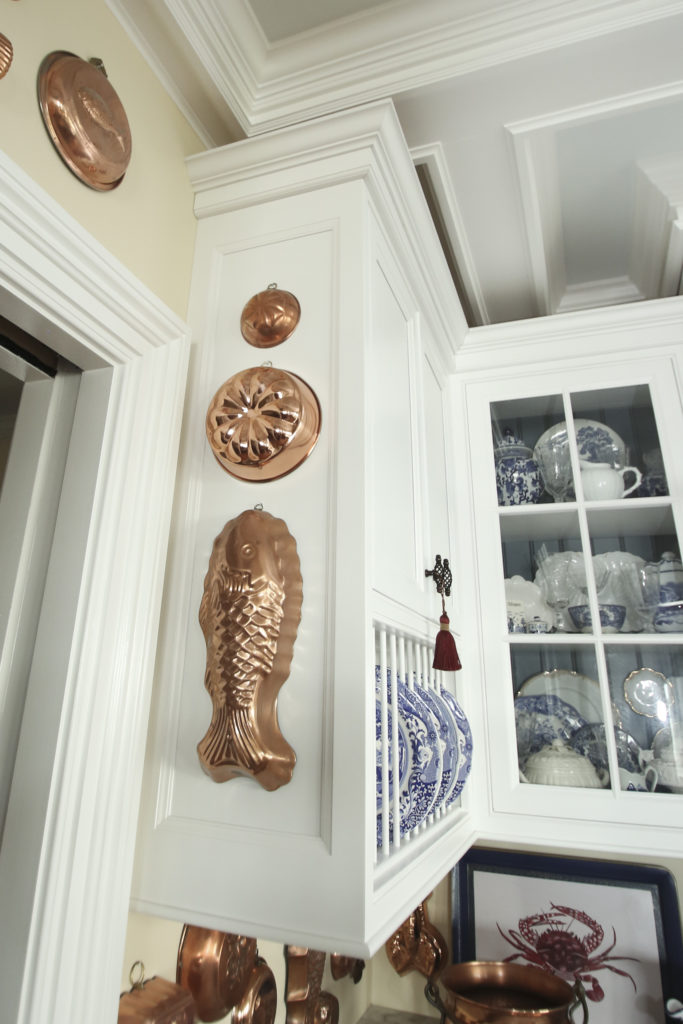 Next we take a moment to share a Fun Fact along with some of our carpentry work.  The crown molding also introduces Sharps, a historical site.  The ships from Baltimore that brought supplies to the area would have been landing about 100 yards away on a Warf that doesn't exist today.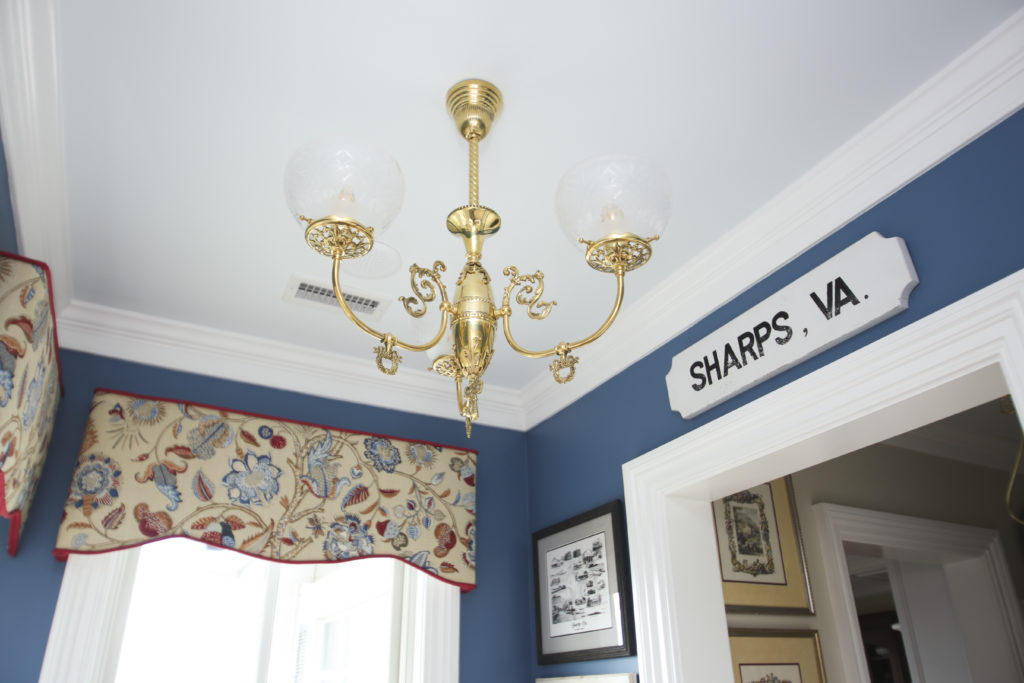 The homeowner wanted arches, nothing straight.  We needed to have the two arches and three beams have the same radius so everything is symmetrical.    Everything was hand crafted after a thorough sketch-up.  There is a golden ration for appearance and nothing was rebuilt.   Each beam took about 240 man hours to complete.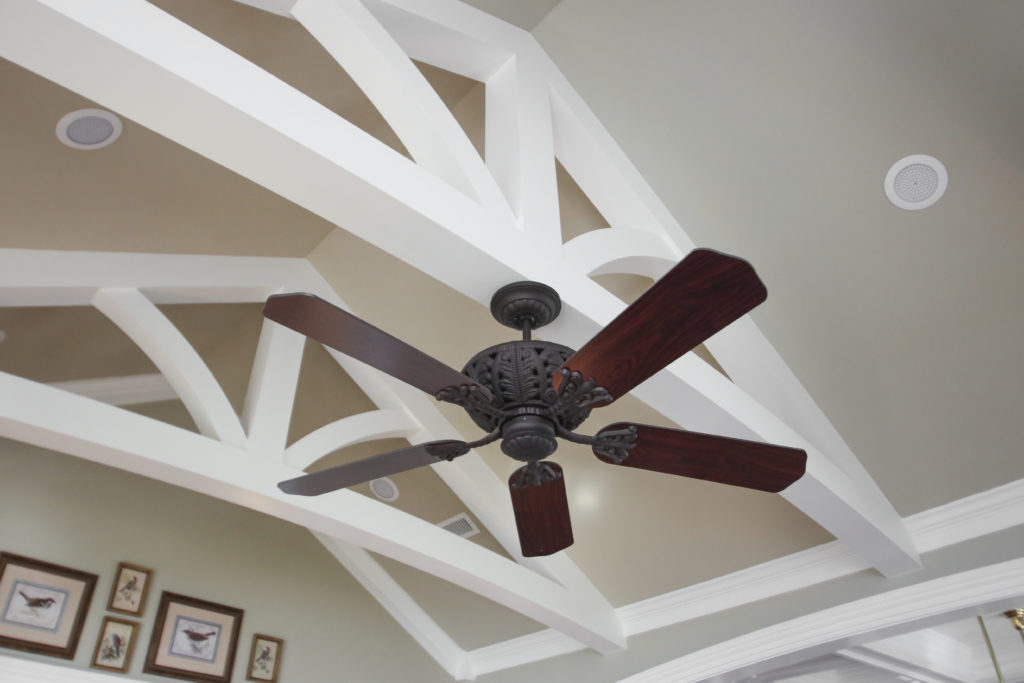 Looking at this picture brings everything together between upscale remodeling and top notch craftsmanship.  We are very proud of our work and the years of enjoyment it will bring our customer.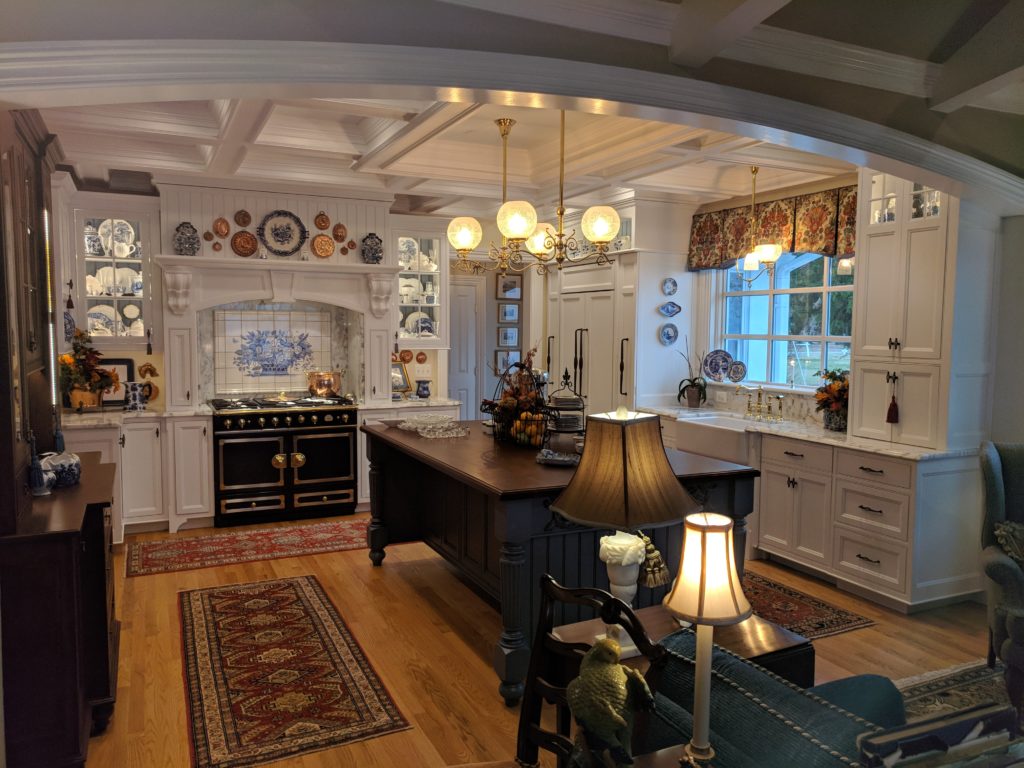 Our customer was pleased to provide the video review as shown on top.  An unique excerpt is "We were very pleased with the way the project turned out.  One of the things we found intriguing was from the building inspector here in Richmond County.  When he came here to complete the final inspection, he made a comment which is really true, he said "Mast Builders are not just contractors, they are artists."
Whatever style you choose for your Whole Home Remodeling project, we will make sure that it integrates throughout the house.  Our professional subcontractors will treat you and your home with respect, because we understand that any project of this scope is going to be an investment of your time and money. We want to make sure that you are completely satisfied with the work we do.
Founded on Integrity
Mast Builders was founded on integrity based upon Biblical principles. When you choose us, we promise to have ongoing communication throughout the construction process, making sure the job flows as seamlessly as possible. Our goal is to provide you with complete satisfaction that would cause you to choose us for future projects and to recommend us to your friends and family with confidence.
We offer a 1-year warranty on our workmanship and are fully licensed and insured. If you want a high-quality, professional, custom remodeling contractor, then contact Mast Builders to schedule your consultation. Give us the chance to show you why so many of our clients won't turn to anyone else.