Custom Bathroom Remodeling

Your bathroom should be somewhere you feel comfortable; after all, you spend a lot of your time in your bathroom, and it's where you get ready to start – and end – your day.  Whether your bathroom is too small for your current needs or you've simply decided it needs an upgrade to meet your personal style, Mast Builders is here to help. We have over 100 years of combined experience and pride ourselves on providing exceptional quality and integrity to every customer we work with. Plus, we're a fully licensed, insured Class-A contractor for the state of Virginia; if your home needs additional structural work to accommodate your bathroom renovation, we can easily take care of that for you.
Whether you know exactly what you are looking for or you need some help, get in touch with us today. We will respond within 24 hours, and we guarantee that you will get only open and honest communication when you work with us. After all, we take care of you like we take care of our own family.
Flexible Design Options
We know that everyone's style is different, and we want to make sure we work with your personal aesthetic for your home. The above bathroom, for example, has a more 50's vibe, with the marble tile and repurposed vanity, pink accents, and rubbed bronze fixtures. The shower, which isn't shown, was marble tile with different-sized accents, and the freestanding tub adds a nice vintage touch. The customer's style preference definitely influenced our overall design, and this is just one example of the type of bathroom we can do.
If what you're looking for is a more modern, high-end look with a lot of storage, you might prefer something like this bathroom. This bathroom started with a pastel pink hot tub, toilet, bidet, and floor tile; we upgraded it with custom-inlayed marble tile and a lovely subway tile accent. To help with storage, we ordered custom cabinetry and built a walk-in closet and his and hers vanity.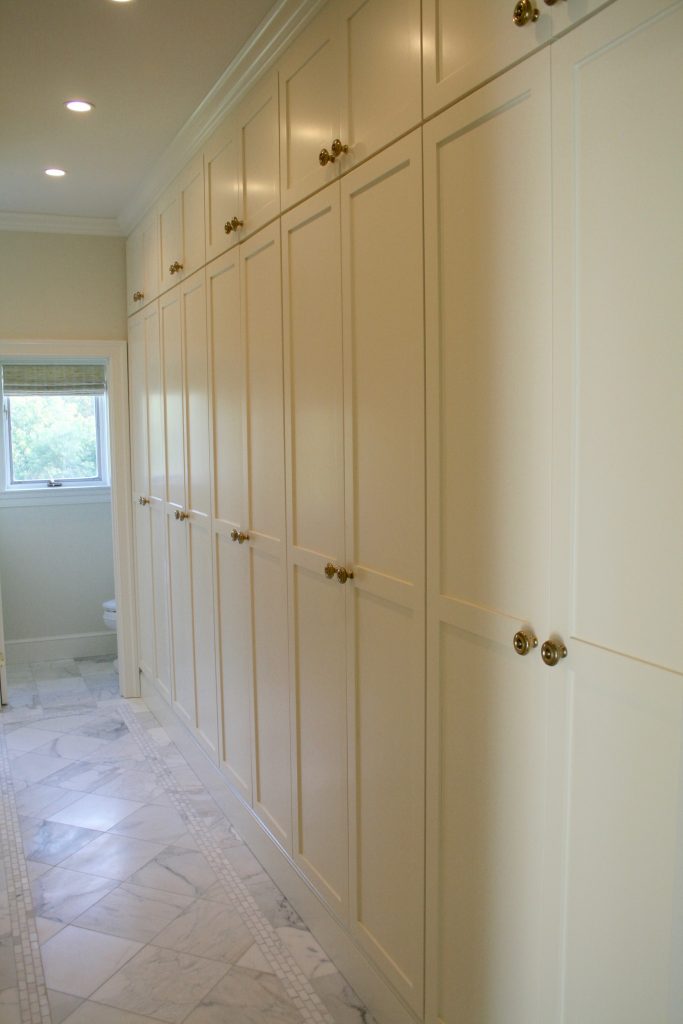 This bathroom also features two separate toilet rooms, a walk-in shower and a freestanding tub. We converted a 400-square-foot bathroom into a masterpiece, letting the owners feel like they were entering paradise.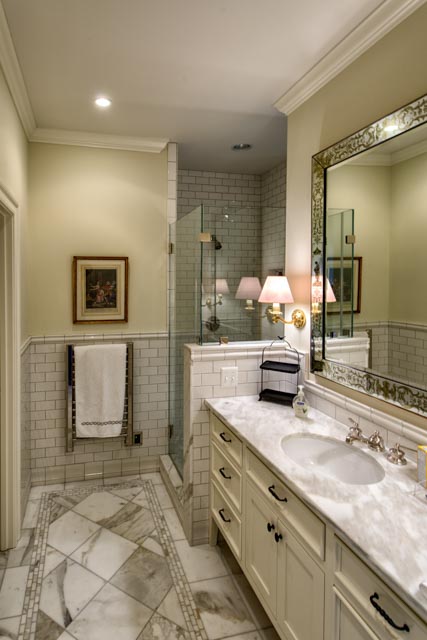 Whether you are looking for vintage or modern, a master bathroom or making the most of a small space, the professional team at Mast Builders can accommodate your needs. We work with suppliers to provide custom cabinetry, and can personally finish cabinets off in-house to meet your specific needs. We can also provide aging-in-place remodeling, and make it look as beautiful as you can imagine.
Whatever style you choose, we will make sure that it integrates seamlessly with the rest of your home, and that your bathroom renovation looks like it has always been a part of your home's design. Our professional subcontractors will treat you and your home with respect, because we understand that any bathroom renovation project is going to be an investment of your time and money. We want to make sure that you are completely satisfied with the work we do.
Founded on Integrity
Mast Builders was founded on integrity based upon Biblical principles. When you choose us, we promise to have ongoing communication throughout the construction process, making sure the job flows as seamlessly as possible. Our goal is to provide you with complete satisfaction that would cause you to choose us for future projects and to recommend us to your friends and family with confidence.
We offer a 1-year warranty on our workmanship and are fully licensed and insured. If you want high-quality, professional, custom bathroom remodeling, contact Mast Builders to schedule your consultation. Give us the chance to show you why so many of our clients won't turn to anyone else.